SHINE ONLINE: Create Compelling Virtual Classroom Experiences
Wednesday, February 10, 2021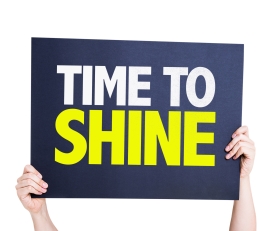 This blog is a chapter from my new ebook Great Web Engagement: Connecting, Meeting and Training Online
SHINE ONLINE!
You're scheduled to deliver a web training session next week. You've got 60 minutes to command their attention, captivate interest, engage participation, and solidify knowledge. Whether you're delivering this learning program in WebEx, Adobe Connect, Zoom, or another platform, you want them to be dazzled by the experience. Your objective is to ensure that they learn practical tools that they can apply on the job. You don't want to bore the socks off them (like the last webinar you watched). You don't want their attention to drift away to their email or the latest project calling from their computer.
How do stellar virtual trainers activate learning in the virtual classroom? Simply put, they go beyond the basics of reviewing content in a PowerPoint presentation, hitting people with an occasional polling question, or posing a generic question in chat. Presenting masterfully in the virtual classroom requires you to develop both technical and delivery skills in a modality that is quite different than the face-to-face classroom.
It is Time to SHINE
Use this mnemonic to describe and remember what separates pedestrian online training from stellar virtual learning.
Stream Your Video
Put yourself on camera so that people can see your facial expressions and connect with you as a live trainer. Make sure that your face is well lit, and your background is uncluttered yet personal. Practice web camera techniques to give participants the illusion of eye contact. The old advice to "turn off the camera so you don't distract people" is no longer valid. (I'm not sure it was ever valid, frankly, but low bandwidth used to be a common issue). Your intention now should be to create a lively virtual classroom experience, one that commands their attention and participation.
Harness the Technology
If you are presenting in a virtual platform for the first time, you may be feeling some anxiety. How do you build a poll and open it? What do you do if the audio drops? How do you activate the annotation tools so people can type on the slide? It might be tempting to leave all of that to the host/producer and just present your content. But trust me, you will feel less anxious if you know how the web conference platform works. You will have a greater sense of control and ease combined with a reduced sense of anxiety.
Interact and Connect
Yes, you are sitting at a computer in another room, probably miles away from your participants. But how they yearn for you to bridge that distance! Use people's names and invite them to chat or speak aloud. Applaud their contributions. Weave their insights into your objectives. Notice what individuals are thinking, feeling, and sharing. Link previous points they have made to current points you are making. Remember specific examples and who stated them. Allow yourself to be delighted by their ideas and suggestions. The goal should be for every person in the session to feel seen, heard, and validated.
Notice What's New
Theater professionals know that no matter how many times they have performed in a production, the audience should experience it like it is the first time. Begin to notice what's new by adopting beginner's mind. That means that you are fully present in the moment, open to the input from participants, and engaging with everyone to deliver the web training together. If you are fully present with everyone, you will co-create the learning experience. And participants will recognize that they are contributing to a collaborative learning experience. That is a powerful way to keep their attention!
Energize Your Delivery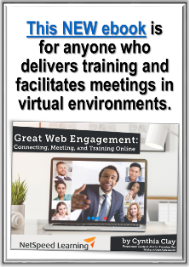 Masterful virtual trainers love their topic, love the technology, love the opportunity to connect, and love the learners. You need to be lit up from the inside with energy, as well as commitment to the topic and the participants' learning. Spend a few minutes before the web session reviewing your objectives. Remind yourself of the impact that this training will have on your participants' on-the-job performance. Close your eyes and visualize a high energy, focused training session. Make sure that the opening of your virtual session is warm, welcoming, and enthusiastic.
These five techniques can help you elevate your performance in the virtual classroom. They are the foundation of a magical learning experience.
Download Our New Ebook! Great Web Engagement: Connecting, Meeting and Training Online is for anyone who delivers training and facilitates meetings in virtual environments.
And register for our complimentary webinar, SHINE! Five Secrets of Stellar Virtual Trainers, to be presented on Wednesday, March 17, 2021 at 1:00 pm ET / 10:00 am PT.
Posted by Cynthia Clay at 10:08 am