Four Ways Producers Make a Difference in the Virtual Classroom
Tuesday, June 22, 2021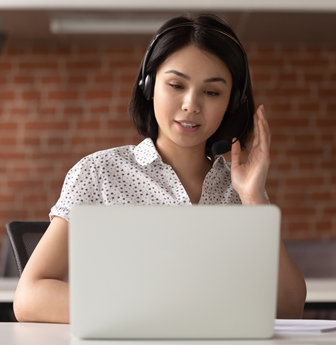 At NetSpeed Learning, we are strong advocates of using a Producer (sometimes called a Host) to produce virtual events. While it may seem cost-effective to allow a trainer or facilitator to "fly solo", the reality is that a bad experience with technology can ruin an event. Flustered facilitators may find their performance plummets. Instead of listening to technical troubleshooting questions, annoyed participants find more important tasks such as checking email or cruising a website. Technology will always present challenges, but a skilled virtual training producer can help navigate the difficulties.
Recently I was delivering a webinar for a client with 60 attendees. At the start of the event, the web platform (a recently updated version) crashed four times in the space of 20 minutes. Because I was collaborating with an experienced producer, the attendees had a seamless experience anyway. I was able to quickly reconnect each time. As my audio resumed, I could hear the producer calmly continuing the discussion, debriefing a chat, or analyzing poll responses. At one point, I could see the chat messages, but I could not advance the slides. I simply asked the producer to advance the slide and continued to present until things cleared up. My producer knew all about hosting a virtual event.
Here are four ways skilled a virtual training producer can make a difference in the digital world.
Limit Wasted Time
A single minute of wasted time online can feel like five to a remote audience. A virtual trainer who must stop the online experience to troubleshoot one individual participant's audio or visual experience wastes time for everyone. The result? Participants begin multitasking or worse, sign off from the learning event and get on with their work.
Provide a Higher Quality Learning Experience
I have delivered thousands of web workshops and virtual events. I can say with certainty that I am a much better presenter and facilitator if I am not worried about all the technical details at the same time that I am delivering a virtual instructor-led training experience. I am free to engage, connect, inform, and motivate. Free your trainers to do their best work with participants and turn the technical problems over to a producer.
Avoid Cancelling Virtual Events
There is nothing worse than assembling an audience of eager participants who have booked a training event on their calendars, and then telling them you must reschedule due to technical difficulties. A producer for virtual training can back up the presenter whose computer has frozen or crashed. If the producer is in another location, they can continue hosting a virtual event, collaborating with the presenter who may be looking at their slide deck and guiding the event over a cell phone. Our motto is, "The show must go on!"
Creating Variety and Interest
We often call on our producers to do more than solve technical problems. We may ask them to read an example, roleplay with the virtual facilitator, or take turns debriefing chat discussions. Hearing a second voice can add variety and create engagement. Participants report that they perk up at the sound of a second voice. Give the producer permission to point out questions posed in chat that the facilitator may have missed, or to indicate that someone has raised their hand. This collaborative way of presenting is more interesting to participants and creates greater confidence in the virtual experience.

For more virtual facilitation best practices, download our ebook Great Web Engagement: Connecting, Meeting and Training Online.
This ebook is for anyone who delivers virtual instructor-led training and wants to know more about how to facilitate virtual training.
Posted by Cynthia Clay at 2:51 pm