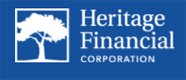 Heritage Bank
Bank fulfills strategic initiative for exceptional customer service across widely dispersed locations
Situation
Heritage Bank has been creating financial solutions and building lasting relationships with their customers since 1927. Recently the bank identified "Exceptional Customer Service" as one of their strategic initiatives. The goal was to develop exceptional customer service, both externally (for their customers) and internally.
The challenges included delivering the training for all 750 employees within the first year, despite the bank never previously having a customer service training program. In addition, the employees were widely dispersed across 65 branches across the Pacific Northwest, making traditional classroom training unfeasible. The bank wanted to use a blended learning approach to maximize learning retention by incorporating virtual instructor-led training with follow-up reinforcement activities that would be managed centrally and implemented locally.
Solution
Heritage Bank wanted one common, foundational program to meet the needs of internal and external staff. Because they had a short timeframe in which to train their employees and they did not have an existing program, they decided to "buy" versus "build" the solution. The need to offer a facilitator-led training program delivered virtually led them to NetSpeed Learning Solutions. The company's customer service program Blazing Service™ is both modular and easily customizable to reflect the bank's standards and culture.
As a more general goal, the bank wanted to begin moving their training from the classroom to online to improve efficiency and reduce costs, preparing trainers for more virtual delivery beyond customer service training. NetSpeed Learning Solutions enjoys a reputation as an industry leader in training designers and facilitators for virtual training. Heritage Bank took advantage of NetSpeed Learning's Certification Process for internal trainers, which certifies them to facilitate virtually for all future instructor-led virtual training projects, not just Blazing Service.
Heritage worked to ensure they continued to have executive level support for the training. With each module, they invited the executives to participate in the learning first, as both a preview and way to help them reinforce key messages and follow-up. Executives also promote the training through "all-employee" calls.
Heritage noted these strategies for success:
Get executive alignment on the overall business outcomes first
Incorporate executives in the early deliveries so they can reinforce and support new skills
Position training as a strategy to achieve strategic initiatives and objectives
Partner with a company that "gets" virtual delivery
Result
Heritage Bank reports excellent feedback on the course content and on the application of learning points, with an overall rating of 4.7 out of 5. They increased their Net Promoter Score from 30 up to 50, and attribute a large share of the increase to the Blazing Service training. They achieved their implementation goal by successfully rolling out the program across a wide geographic region, within a month of their trainer certification workshop. They point to the Blazing Service program as helping them achieve the strategic objective of delivering "Exceptional Customer Service". They were delighted to achieve their target of training all 750 employees in less than one year, without incurring the costs of travel and time away from the job to attend face-to-face training. In addition, the training team is now delivering additional virtual learning programs leveraging the virtual training skills they developed through the certification program.