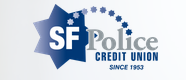 San Francisco Police Credit Union
Frontline supervisors and emerging leaders improve their critical thinking skills and are better prepared for their new management roles with NetSpeed Leadership
Situation
Since 1953, SFPCU has provided financial services for first responders, including law enforcement, fire protection, emergency medical technicians and their families throughout California. In this time, they have developed a strong bond with their very loyal and growing base of customers.
As SFPCU has grown, they saw an increasing need to develop the skills of their new supervisors and emerging leaders. In order to maintain the strong member loyalty they have created in their market, they saw the need to make sure their newly promoted managers had the skills to become effective leaders within the organization and make the sound decisions necessary to ensure their members received the best service possible. While they have done other third party leadership skills training in the past, too often the training solutions did not understand the unique nature of SFPCU's culture or the audience they were serving and the solutions lacked the ability to customize the solution for the specific requirements of this culture.
Solution
A key selection criteria for the training solution SFPCU was looking for was that it had to be flexible so that SFPCU's trainers could customize the content and the language to make the program truly their own. They also wanted to ensure that there was post-classroom learning reinforcement to ensure the learning that took place in the classroom would stick and provide opportunities to apply the learning back at their job. Finally, they wanted a program that their emerging leaders would find stimulating, engaging and fun, so that the training would be embraced and not resisted by the people going through the program.
They chose NetSpeed Leadership because it met all of these requirements and went beyond this. The program included easy-to-administer tracking and reporting tools so that they could measure whether the training was having an impact or not. And they were able to customize the content to tailor the language and content to meet the needs of their audience.
Result
SFPCU was extremely pleased by the outcome of their training implementation with NetSpeed Leadership. They found the staff at NetSpeed Leadership highly responsive and easy to work with. But more importantly the emerging leaders who went through the program appreciated that the program was engaging and got everyone to actively participate in the learning through a variety of stimulating group discussions and exercises. The program was easy to customize and easy to track results.
The management team to whom these emerging leaders report, has noticed positive trends in the areas of critical thinking and have observed that the people who have gone through this program seem more prepared for their roles as leaders and more proactive in understanding how to move forward in their roles.
Natalie Signorelli, SFPCU's Manager, Recruitment and Talent Management, concluded that NetSpeed Leadership's widely applicable, quickly customizable, engaging training curriculum could benefit supervisors and new managers in just about any organization.