Supercharge Your Virtual Meetings
Tuesday, December 22, 2020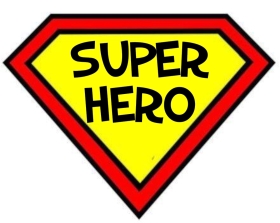 At NetSpeed Learning Solutions, we've worked with hundreds of training facilitators and instructional designers who want to learn how to design and facilitate interactive, engaging online learning. As web conference technology has improved over the years, we have also found that virtual managers and meeting facilitators need to know how to lead dynamic, effective virtual meetings.
Whether you are preparing to lead your first virtual meeting or you're a seasoned meeting facilitator, there are likely questions running through your mind:
How do I design a meeting agenda for a virtual meeting?
What do I do to keep people from multi-tasking the whole time?
How can we reach consensus when I can't see whether people are in agreement?
What can I do to harness the brain power of everyone in the virtual room?
How do I reduce those long, uncomfortable silences and keep the energy up?
How do I make sure they want to come to my next virtual meeting?
You'll be a superhero when you learn how to supercharge your virtual meetings. To describe the practical techniques for the most effective virtual meetings, use this mnemonic:
V Visually engage their attention with well-designed slides
I Interact every three minutes
R Record decisions and actions visually
T Test agreements and commitments with status icons or emoticons
U Use all the interaction tools in your web platform to increase collaboration
A Amplify your virtual presence
L Leave the meeting on a high note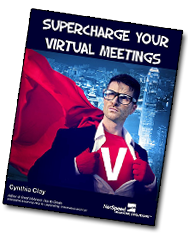 Our ebook, Supercharge Your Virtual Meetings, was written to provide basic tips and tricks to help online meeting facilitators supercharge their virtual meetings. We walk our talk here at NetSpeed Learning Solutions and put into practice many of the techniques this ebook describes. In addition, we've worked closely with corporate clients who want to get the best out of their virtual meetings.
No matter what web conference platform you adopt, you have the ability to design and facilitate an interactive, engaging virtual meeting based on the practices described here.
Posted by Cynthia Clay at 10:02 am