Picking the Right Web Conference Platform
Wednesday, January 6, 2021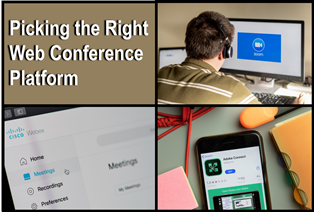 Many of our clients are evaluating the best web conference platforms for their training and meeting needs. As you make this important decision, consider these factors:
Audience Size: What is the smallest and largest audience you want to support? How well does the platform handle the larger audiences compared to the smaller audiences?
Interaction Options: What tools are available to increase interaction and engagement? The most common tools to access include polling, chat (to everyone), chat (privately), annotation tools, emoticons or emojis, whiteboards, breakout rooms, web cameras, and the ability to play video or audio.
Producing Functions: How many producers need to have access to the complete meeting functionality from creating meeting room links to building polls?
Security: Does the web conference platform pass the security tests of your IT department? Can you password-protect meeting links? Can you boot unwelcome people out of a session?
Audio: Does the platform allow you to dial in on a telephone bridge as well as stream audio using VolP (Voice-over Internet Protocol)? Are the costs of either or both reasonable?
Ease of Use: How simple is the interface for first-time users?
Sophistication of Engagement : While ease of use is important, it is also important to be able to build more sophisticated learning experiences and activities that keep participants engaged.
Tutorials: How helpful are the tutorials produced by the platform vendor? Are they short and focused on specific functions? Would it be possible for your training team to view a tutorial and then immediately apply the function?
Support: How easy is it to access technical support before, during, and after the web event?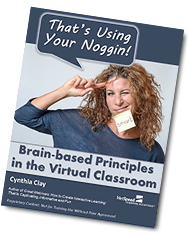 In a recent webinar I delivered for Training Magazine, I polled the 750 attendees to determine which web conference platforms their organizations were using. The top three platforms were Zoom, Webex (at around 32% each) and Adobe Connect (at about 15%). We have developed a platform comparison document that compares the features and functionality of these three web conferencing platforms. If you are making a decision about web conference platforms and would like a copy of this comparison document, please email us .
And download our ebook That's Using Your Noggin! Brain-based Principles in the Virtual Classroom. This ebook describes brain-based learning principles you can apply in order to engage learners and help them retain information. No matter what web conferencing platform you use, you are sure to discover some tactics and tools here that will help you uplevel your virtual learning game in your next web workshop.
Posted by Cynthia Clay at 11:54 am