Good News ... with Prizes!
Tuesday, May 11, 2021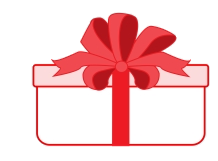 We are celebrating two big events here at NetSpeed Learning, and we are tickled pink to share them with you. They come with prizes!
First, we have launched our new website. To thank you for taking a peek, the first three people who find the gift box icon on one of the web pages and email us will receive a $25 Amazon gift certificate.
Just email Cynthia Clay and provide a screen shot of the web page. Or you can copy and paste the URL for the web page into your email. We will announce our three winners in the June newsletter.
Second, we have just completed the third revision of the NetSpeed Leadership® management development program for new and emerging leaders. That's right – all 24 topics for face-to-face and virtual delivery have been updated to reflect more inclusive language, updated case studies, and newer graphic images.
If you would like a preview of NetSpeed Leadership®, email Tim Jones, Senior Learning Consultant, and tell him which two modules you would like to preview.
We will reward you and your organization with a 20% discount on any program purchase made through September 30, 2021.
Posted by Cynthia Clay at 11:11 am