RSS feed for this blog
NetSpeed Blog
Monday, December 5, 2011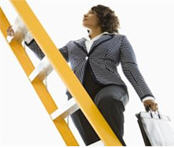 Have you been watching the news lately? Just about every day there are signs that the economy is slowly rebounding. Housing starts are up. Unemployment is inching its way down (albeit at a glacial pace, it would seem). As the economy improves, employees often start brushing off their resumes and begin thinking about what's on the other side of the fence.
Are you prepared to make sure your top employees don't jump ship? What are you doing to make sure they are feeling well cared for and supported? A recent article in Chief Learning Officer magazine talks about ways to hold onto your top employee talent. In the article, How to Keep High-Potential Employees, by Ladan Nikravan in the November 16, 2011 issue of CLO, the author writes that the highest potential workers "consistently and significantly outperform their peer groups… exhibiting behaviors that reflect their companies' values and illustrate a capacity to grow."
According to a 2011 study by the American Management Association, less than one in four employers evaluated themselves as highly effective at retaining high-potential employees. "Identifying and developing future leaders is an imperative business function", writes Nikravan, adding "but most companies don't have formal high-potential programs geared toward identifying and developing their strongest employees."
The challenge, says Nikravan, is for employers to find the right balance between the need to classify and develop high potentials and ensuring the rest of the workforce remains committed to the organization's mission. Read the article to learn how smart employers are finding ways to make sure their superstars continue to grow and develop and retain their loyalty, even when things are starting to appear brighter on the other side of the fence.
Posted by Tim Jones at 4:03 pm
=0?> Comments
Leave a comment
Sign in